16 years ago, he was known as the People's Daily tragic figure, and now he single-handedly created 500 billion empire.
Article: ZHANG Jing-bo; Source: Chinese Business Powerhouse (ID: hstl8888)
Silent, introverted Zhang Xiaolong Polytechnic male, single-handedly created the world's largest mobile social software – 697 million active users of micro letter, he called micro-letters from their own failure college social experience.
Before micro letter, Zhang Xiaolong was a "genius programmer" and vagrants. Not afford to eat rice once his long confused the relationship between technology and money, so far to commercialize feel conflict. But his micro-letters, was more than 500 billion yuan valuation.
Zhang Xiaolong was born in 1969 in Shaoyang, Hunan, 18-year-old was admitted to the Central Institute of Technology (now Huazhong University of Science and Technology), has been read graduate.In school, his dull personality, slovenly, slippers daytime stepping out at night and roommate guarding alcohol stove, and cook instant noodles while playing "double liter." Spare time, Zhang Xiaolong like to hostels pond shrimp fishing, or watching videos, playing football. In short, in the eyes of teachers and students, the university and the surrounding Zhang Xiaolong people, far from legend.The only impressive is that he was smart and learned almost nothing. Classmates recalled that Zhang Xiaolong play no matter what, a little practice, can achieve expert level. He likes to go, billiards, bowling and computer games, billiards and his people, most of the time can only hold the club, dry sitting on the sidelines, waiting for his mistakes.When graduate school, Zhang Xiaolong was assigned to microwave professional, but he prefers to software development, so the mood was depressed. A classmate said to him: Do you still do not like what you do like. In its agitation, Zhang Xiaolong will focus on all the time just had the first complete standard C language.At first, he could only write about drawing such a small program, but it bogged down line by line code exhilaration. Get up every day, he arrived Luojia mountain biking laboratory, in front of a computer 386 to sit on the 0:00. So groping two years later, he reached a high level in the OPP, and other data structures.

Autumn of 1994, 25-year-old Zhang Xiaolong graduate, because they do not like boring, rigid atmosphere, he gave up the opportunity to work in the national telecommunications authorities. That time, the domestic Internet industry has just started, Zhang Xiaolong high morale to Guangzhou, to join the Internet wave.

He has worked at both companies, is responsible for program development. Despite doing a good job, but do not want to act as a large company inside a small gear, and step by step tired of life, the talkative young man began while working the interest shifted to quietly do things their own interest above. Thought to want to, he decided to develop a their own software.

During the day, he can only write programs in the evening. Lanterns, Zhang Xiaolong put his "lock" in the house, while smoking while typing on the keyboard until the night deep. He looks lonely artist, carefully crafted his own works. Sometimes, just to be smaller program a few hundred bytes, it is necessary to spend a whole night.

After months of fighting, in January 1997, Zhang Xiaolong finally completed his work – a named Foxmail mail software. Compared to the time of the mail system, Foxmail light and flexible, stable operation. Zhang Xiaolong no wealth ambition, he decided to market this software is completely free for everyone to use casually.

Foxmail a launch would be a great success, raked in two million users, was named Star software. After Foxmail line, Zhang Xiaolong will receive dozens of emails per day, point of praise, comments, and he had to respond to hundreds of thousands of followers so that the name was once a small programmers feel a huge sense of accomplishment. After this incident, Zhang Xiaolong also fame, becoming the Qiu Bojun, Wang Jiangmin new generation of technology elite.

However, this happiness did not last long, and soon found himself Zhang Xiaolong tedious maintenance work tied the hands and feet. Upon completion of the software it needs a little improvement, which takes up a lot of his time, and therefore interest vanished.

This makes Zhang Xiaolong thrown into confusion, while the oppressive work, one side is struggling to cope with the hobby.

After thinking for a long time, he decided to resign to become a freelancer.

But Foxmail make honor plus body, but can not contribute a penny for him. Zhang Xiaolong feel that they are freelancers, others think he is a vagrant. "People's Daily," the reporter wrote an article reported that Zhang Xiaolong , and he worried about doing free software "will not starve to death" , said he was tragic figure under the surging tide of the Internet.

The most difficult time, Zhang Xiaolong think even management software for a friend he went to the United States to work. Because in the ocean, free software developers can rely on advertising and sponsorship support themselves.

So after struggling for several years, the fate of Zhang Xiaolong's sudden reversal. April 2001, the company announced the broad 1200 million acquisition of Foxmail, and appointed Chief Technology Officer Zhang Xiaolong.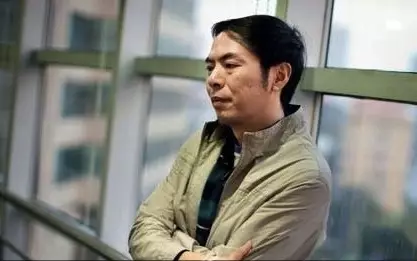 And suddenly rich, Zhang Xiaolong was not happy.
A news conference, he almost did not speak, a preoccupied look. That night, he wrote a sad letter: "From soul to look, I can count the stars it (Foxmail) every detail …… in my heart, it is a soul, because it's every piece of code, I have a moment to shape its consciousness when I suddenly had a urge to want to go back. "
Wandering product manager
The acquisition of a broad let Zhang Xiaolong achieve financial freedom, but did not give him cause to bring improvement, he again became big companies gear, but bigger models. Zhang Xiaolong once disappeared in the political arena in 2005, Tencent after the acquisition of a broad market, he again works "dowry", entered Tencent.
In larger companies, Zhang Xiaolong suddenly found his position is not the same. At that time, Tencent MSN is facing the threat of social domestic software industry flames spread. As was the "ecosystem" of an important part of the mailbox has been Tencent weakness, poor user experience, Mr. Ma are reluctant to use.
In the Mailbox field, Zhang Xiaolong is already a master-level figures, Ma high hopes for him. Ma Ying-jeou appointed Zhang Xiaolong, head of research and development center in Guangzhou, the only palm party power. His team also do not like other sectors, bear fragmented transactional work, just concentrate on research and development.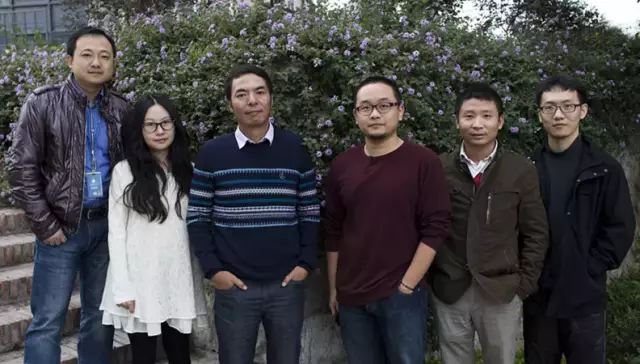 ▲ Zhang Xiaolong and his team
However, the prestigious Zhang Xiaolong took over QQ mailbox at the beginning, but to produce a disappointing answer. Since imitation MSN and Gmail, in addition to follow the previous clients of thinking, a new generation of QQ-mail on the Web like a tractor, very heavy, super-slow speed, and being friends "rotten and poor."
Zhang Xiaolong therefore forced into a corner. Bitter experience, he decided to change their thinking.
Day in early 2006, Zhang Xiaolong pointing Burj Al Arab paintings, the team said: "We need to do a better mailbox, seven-star mailbox," he finished, the hall came the sporadic laughter.
Despite the team's confidence is not strong, but Zhang Xiaolong quickly let everyone see their own determination. After the meeting, he will be fast, simple product identified as the core , leading the team to QQ mailbox kernel rewrite all down and ask everyone sense research user needs.
Soon, they found a sore point. At that time, most of the mailbox can not send large attachments, send large files speed comparable to a snail, to give people work to bring great inconvenience. In response to this demand, QQ mailbox the first to upgrade to support 2G large attachments sent. This change completely activated a large number of dormant accounts of users QQ mailbox began to rapidly rise.
In 2008, QQ mailbox reborn, Tencent won seven star products.
This reversal let Zhang Xiaolong regain confidence, he began as before, to their own preferences into the works, because I like "The Blue Lotus" lyrics, he bought the copyright to Xu Wei, hanging QQ mailbox entrance. In addition, Hazel and Martin Luther • • King poem. Like painter, Zhang Xiaolong want to leave his name on the work.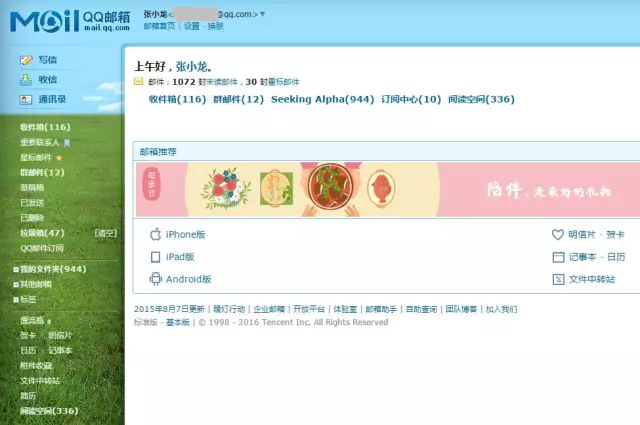 ▲ QQ mailbox 5.0
QQ mailbox ride out the storm, Zhang Xiaolong was not satisfied, the user needs in the development period, he finds a stronger social attributes is the key to the further development of the mailbox. After that time, the team tried a reading room, mail broadcasting, but are far from success, until QQ mailbox Release drift bottles.
September 2010, QQ drift bottles formally launched. In this application, within the Framework to capture the loneliness that most people deep inside, he tried to meet everyone's needs by making friends of strangers in this way. This application was a huge success, drift bottles sent per day soon reach 100 million appalling , QQ-mail sent directly to the country's first throne.
▲ parent he or drift bottles
A year later, Zhang Xiaolong when faced with mentees alma mater, said creative drift bottles from their own failure college social experience. In the sex ratio up to 7: 1 engineering colleges, loneliness and roommates Zhang Xiaolong is the norm.
Success drift bottles to a lot of inspiration Zhang Xiaolong, before he is concerned that technology, after which human needs has become the core of its new products.
QQ mailbox summit did not take long, Zhang Xiaolong also see new opportunities. In October 2010, an APP on line 15 days will be named Kik gains one million users. Zhang Xiaolong Kik in the study found that this new mobile instant messaging software, it may cause a fatal threat to the QQ. So he wrote a message the night to Ma, Tencent is recommended to do this piece of business.
Ma also did not sleep, and soon gave him back the message: 'll do.
"The whole process is the starting point for an hour or two a sudden take the wrong nerve, wrote this message began." Zhang Xiaolong recalls.
This message became the starting point of micro-letter. The next two months, Zhang Xiaolong led a dozen go-getters, crowded into a narrow office area, began a frenzied "code farmers' lives.
They always stay in front of your computer, called takeaway hungry to feed their families, tired and stopped a cigarette, or a place to do a few push-ups.
Initially, Zhang Xiaolong had no idea what kind of micro-channel should be made, but he felt obligated to check Tencent potential adversaries, such as rice chat. The LEI sits by the social software in time prior to the micro-channel, and with great success.
Compared to external competition, competition from within leaving Zhang Xiaolong headache. Mobile Social from the start to the outbreak of the time too fast, Tencent up and down very tight. At that time, three teams are doing micro-channel products, the other two are mobile QQ team and Q channel team, led by senior veteran Liu Chengmin. Zhang Xiaolong's team in terms of contacts, resources, or experience a disadvantage, the majority of the group felt that he could not pass the "internal clearance."
During that time, Tencent's mobile social struggle of swords, every day, Ma appease both sides, the two sides to make "psychological counseling." As competition intensifies, Zhang Xiaolong frenzy products makes the balance began to tilt.
Micro-channel products in direct competition with the SMS operators (Mobile, China Unicom), Tencent is by moving bigger (Monternet), worried about offending customers Liu Chengmin choose to compromise, ordered his men to slow development, but Zhang Xiaolong Call I hope he and other carriers to communicate better redistribution.
Mustering the strength of Zhang Xiaolong did not have any concerns, he recklessly product development, even offend people, not easily compromise. Such paranoia ultimately help micro letter "Prince battle" in poise.
January 21, 2011, the micro-channel 1.0 line. Open the application, the eye is a deep picture: a villain stood alone on a huge blue planet outside, overlooking the distant homeland.
Zhang Xiaolong hope to use the painting passed WeChat intention: people are very lonely and need to communicate.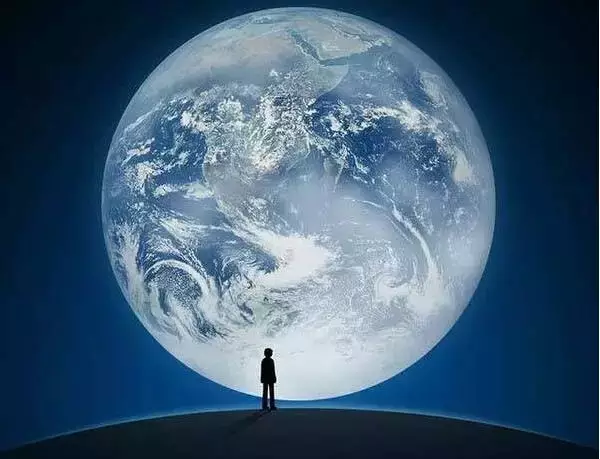 ▲ WeChat start page
After this time, the micro-channel innovation, from voice, to see nearby micro-channel users, their social attributes rising, the number of users has also ushered in the explosive growth.
Micro-channel 2.5 release before the day, Zhang Xiaolong was appointed vice president of Tencent. The wunderkind, late bloomer technical genius, only 6 years to do Tencent executives.
Zhang Xiaolong this post devoted all efforts. Early micro letter, he spent 6,7 hours per day by one user to view posts. Subordinate to us to say that this work on the line, but Zhang Xiaolong stick to their experience, to control the user's experience.
The adjustment for the user's needs, Zhang Xiaolong became daunting. Large button should be placed where a small difference a few pixels to an image, he made the team demanding, under his mail was afraid to see, and is privately called "dictator."
Members of a micro-letter team of Chinese businessmen military strategy, said: Zhang Xiaolong often wear shorts in the office cruising, watching them standing behind the programmer to write code. If there are problems, he did unflinchingly.
In the "dictatorship" and in pursuit of the ultimate, Zhang Xiaolong found a new idol, he does not deny that he has inherited the mantle of Steve Jobs. Tencent Research Center in Canton, staffing two books, one is the "Steve Jobs Biography", the other is the god of science and technology • Kevin Kelly's "out of control." All products released video of Steve Jobs era, Zhang Xiaolong did not miss once.
Master of manipulation of human nature products
Micro-channel 2.5 after great success, Zhang Xiaolong has been content for the next version of worry. One day, during a meal, and colleagues, he suddenly thought I could find people by shaking the phone, we all feel very good at this point.
After returning home, Zhang Xiaolong sleep, he again and again ponder two people to communicate by shaking the phone scene. The next day, he and his team spent half a day to determine the details, just shake gesture design discussions for a long time. After the meeting, we entered a new round of rapid development.
October 1, 2011, micro-channel 3.0 on the line, "Shake" has become the killer weapon. One need only shake the phone, you can find thousands of miles away while shaking the cell phone. This feature soon attracted the audience blitz, start date volume more than 100 million times. In countless "Kacha" sound, ten million "Lonely Hearts," simply find a place full of possibilities.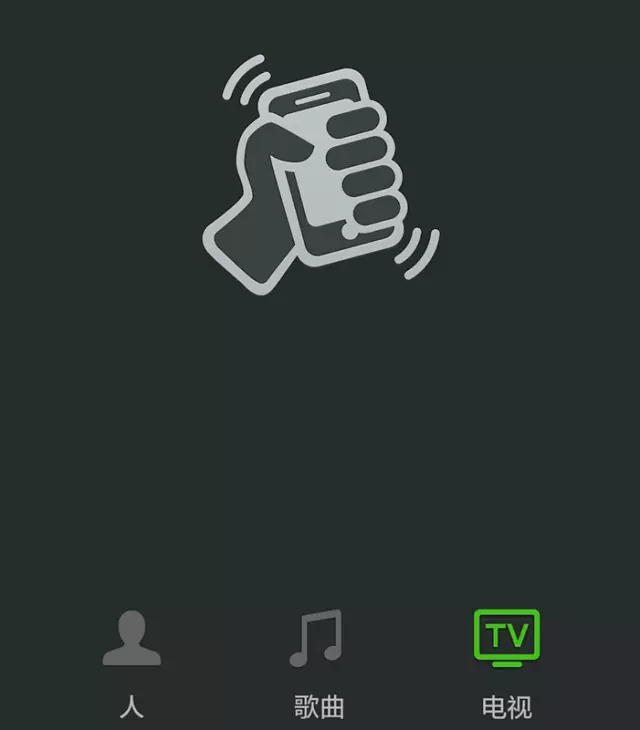 ▲ "Shake" interface
In the same month, Zhang Xiaolong was invited back to his alma mater speech. In a speech burst of "Kacha" sound start, holding the phone with Zhang Xiaolong mentees audience interaction.
"In essence, when you do this gesture of action, it is very erotic." Classmates shy laughter, Zhang Xiaolong analysis from the micro-channel design in sexually suggestive. There will be a shake sound is the sound of a rifle, this sounds very exciting, very interesting , and the page will open what appeared a naked statue of David.
Why is this series of combinations will make people feel cool? Zhang Xiaolong explained that because all people are motivated from the sexual impulse, this concept from Freud's theory.
That speech, Zhang Xiaolong completely immersed in their own humanity and technology understanding. A lot of people think he has changed, not like a programmer, became selling the concept of a "flicker master." But these micro-letter words in front of the rapid expansion of the empire worth mentioning, in March 2012, micro-credit has exceeded 100 million households.
"Shake" success soon attracted rivals have copied. Zhang Xiaolong Ma to email, or else ask him again about refinement, function point increases, so opponents robbed before. But Zhang Xiaolong work on their own very confident, he told Ma, WeChat has done the most simplified, plus everything is minus points.
Do not worry about plagiarism issue, Zhang Xiaolong will focus on new beyond. Opponents learned how to "shake", April 19, 2012, 4.0 micro-channel circle of friends launched function, triggering a new round of mobile social hot, there are hundreds of millions of pieces of information, millions of pictures in the circle of friends passing day.
Thus, the basic framework for the establishment of micro-channel. The end of 2015, the number of active users of WeChat climbed to staggering 697 million, worldwide Yiqijuechen.
Pure person can be successful
As the number of users jumped, the commercial value of the micro-letter highlighted. Inside and outside the company, Zhang Xiaolong face tremendous pressure. After years of hard work in the workplace, he does not exclude commercial, but still eager Hudu, do not accept any rough placement, because that would annoy the user and affect their experience.
Based on this concept, and reject all micro-channel marketing companies, advertising companies. After a public platform on the line, in order to prevent micro-blog style navy flooding, frequent scraper, his mandatory for each account can only push a piece of information every day. Faced with moaning and groaning marketing account, he put down a word in my circle of friends: "From now on, WeChat quiet."
Later, Ma Xiaolong repeated looking to do the work, he was under pressure, agreed to run ads in the circle of friends. But first, he must insist that every advertising costs more than 10 million, the real strength, can make beautiful advertising business to come.
Micro-letter thunder Missing Piece, Zhang Xiaolong there is a new concern, he felt that people began to excessive sticking to the micro-letter. January 2016, Zhang Xiaolong on the micro-channel open class, said: he and his colleagues in a meeting or dinner, a lot of people every minute or two to look at the phone, look at the micro-channel, if the provision can not see, the other side will know what to do, very anxious.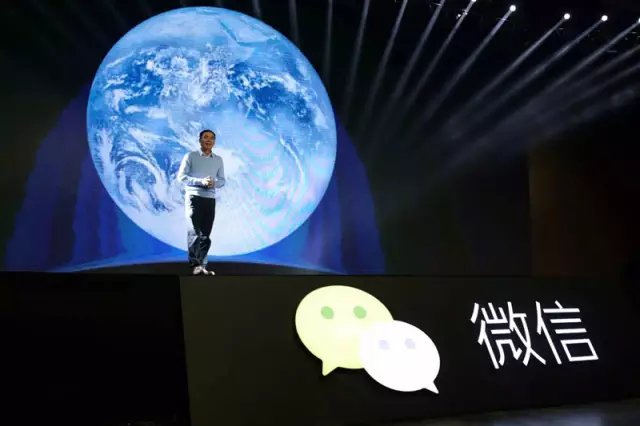 ▲ Zhang Xiaolong open class in the micro-letter
Zhang Xiaolong do not want to become a human micro-channel control. "Good product should be used up and go." If a user immersed in them, can not be separated, just like you bought a car, the destination to your car's air conditioning say well, I hope to stay there, in that this product is definitely not a good product.
His remarks were once thought somehow. Internet traffic and grab each have contrived entrance, traditional industries have not heard you want to drive users, Zhang Xiaolong a little ridiculous. But in his view, the purpose of the micro-channel is to help people complete the task efficiently, rather than giving them something trapped in there will always have a never-ending process.
We think: this seemingly "deviant" ideas actually very consistent with Zhang Xiaolong qualities. He is more like a birth mother, reject mercenary businessman concept he hopes to achieve micro-channel value in its targeting, without transgressing, not intrusive.
With the success of micro letter, Zhang Xiaolong halo head more and more, depending on the product manager of his idol, he was portrayed as the media Jobs China successor.
It is said that Zhang Xiaolong very lucky, done three times, you have won three times. But in fact he is doing only one thing from beginning to end – carving works perfectly.
On almost know, people ask: What explains the success of Steve Jobs? Zhang Xiaolong A: Description purely can succeed.
"Financial circle" : to do the most likely finance, investor groups. Aggregation of private, venture capital, investment banking, mergers and acquisitions, venture capital, listed companies, industry groups and other friends. Thanks for Goldman Sachs, Morgan, Sequoia, Jiuding, Fosun invested thousands of friends and other institutions for their support.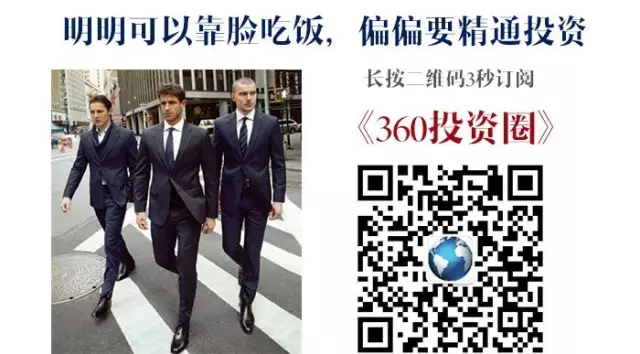 21 century competition is the information, follow us occupied investment information Heights (top right, click " View Public No. " concern). After concerns reply to see how the group, or to add a small series of micro signal: jrq2016.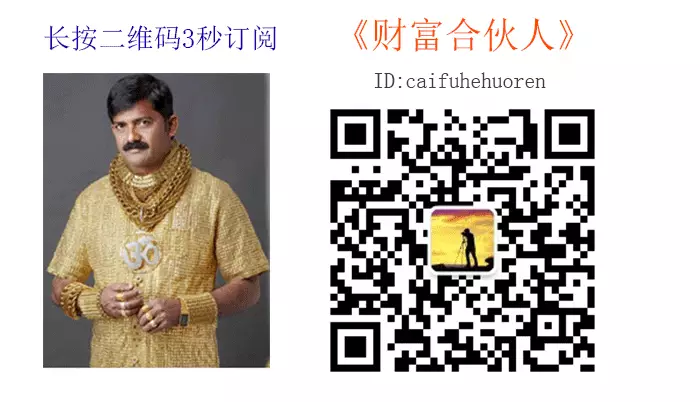 Disclaimer: We respect copyright, are a selection of articles indicate the author and source of reprint articles copyrighted by the original author. Especially if it involves copyright issues, please contact Xiaobian marked "copyright." Xiao Bian Micro Signal: jrq2016.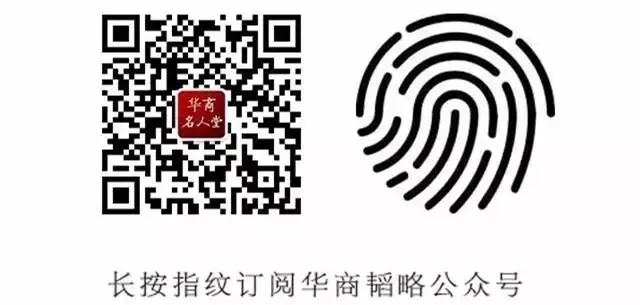 Reprinted from the public content No.


Chinese businessmen Taolue
understand more